기사보기
Notice (8): Undefined variable: newversion [CORE/lib.times/views/samples/newspaper.ctp, line 65] ');" class="s_news_a">단어학습
Notice (8): Undefined variable: newversion [CORE/lib.times/views/samples/newspaper.ctp, line 70] ');" class="s_news_a">속청학습
평가문제
Notice (8): Undefined variable: newversion [CORE/lib.times/views/samples/newspaper.ctp, line 76] ');" class="s_news_a">단문학습
Notice (8): Undefined variable: newversion [CORE/lib.times/views/samples/newspaper.ctp, line 81] ');" class="s_news_a">받아쓰기
Notice (8): Undefined variable: newversion [CORE/lib.times/views/samples/newspaper.ctp, line 86] ');" class="s_news_a">퍼즐스터디
ENIE학습
워드팁
해석
challenge 도전 / palm 손바닥 / thumb 엄지손가락 / index finger 집게손가락 / be curled (둥그렇게) 감겨지다 / sidearm 옆으로 던져서[던지는] / flick 잽싸게[휙] 움직이다 / release 놓아 주다 / spin 돌다
닫기
돌을 건너 뛰는 것은 누구나 시도할 수 있는 재미있는 도전입니다.
잔잔한 호수나 주변에 매끄러운 돌이 있는 큰 연못으로 가세요.
손바닥에 맞고 무게가 테니스 공보다 무겁지 않은 얇고 평평한 돌을 찾으세요.
여러분은 돌을 엄지와 중지 사이로 잡아야 합니다.
여러분의 검지는 돌의 가장자리를 감싸고 있어야 합니다.
반드시 돌을 낮게 옆으로 던지세요.
돌이 회전할 수 있도록 돌을 놓기 직전에 손목을 잽싸게 움직입니다.
닫기
[648호] How To Skip Stones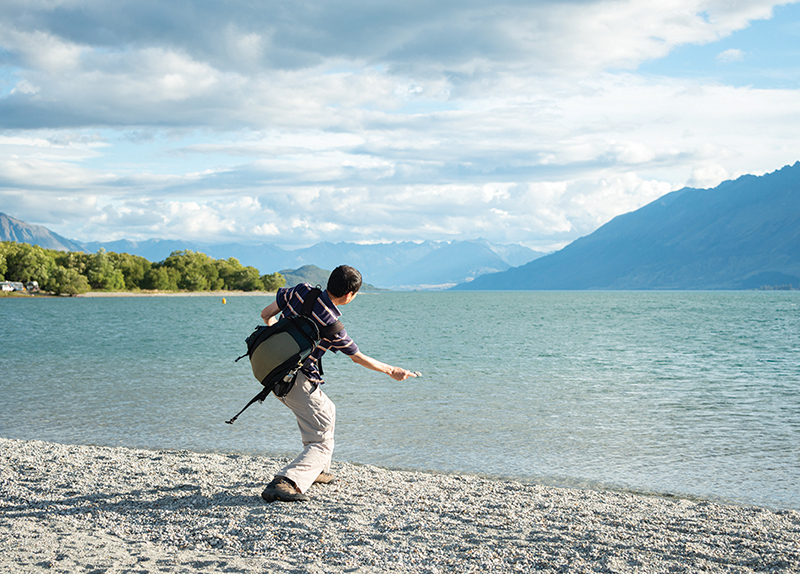 Skipping stones is a fun challenge that anyone can try. Go to a calm lake or a large pond with smooth stones nearby. Find a thin, flat stone that fits in your palm and weighs no more than a tennis ball. You need to hold it between your thumb and your middle finger. Your index finger should be curled around the edge of the stone. Make sure to throw it with a low sidearm swing. Flick your wrist right before you release the stone to make it spin.

Yesel Kang
Staff Reporter