기사보기
Notice (8): Undefined variable: newversion [CORE/lib.times/views/samples/newspaper.ctp, line 65] ');" class="s_news_a">단어학습
Notice (8): Undefined variable: newversion [CORE/lib.times/views/samples/newspaper.ctp, line 70] ');" class="s_news_a">속청학습
평가문제
Notice (8): Undefined variable: newversion [CORE/lib.times/views/samples/newspaper.ctp, line 76] ');" class="s_news_a">단문학습
Notice (8): Undefined variable: newversion [CORE/lib.times/views/samples/newspaper.ctp, line 81] ');" class="s_news_a">받아쓰기
Notice (8): Undefined variable: newversion [CORE/lib.times/views/samples/newspaper.ctp, line 86] ');" class="s_news_a">퍼즐스터디
ENIE학습
워드팁
해석
balanced 균형 잡힌 / meal 식사 / habit 습관 / important 중요한 / need (~을) 필요로 하다 / whole grain 전곡(全穀) / product 제품 / protein 단백질 / snack 간식 / try 노력하다 / unprocessed 가공[처리]되지 않은
닫기
균형 잡힌 식사와 건강한 식습관을 갖는 것은 매우 중요합니다.
어린이들은 과일과 채소, 통곡물 제품, 단백질 식품 등 세 가지 식품군의 음식으로 구성된 균형 잡힌 식단이 필요합니다.
어린이들은 하루에 세 끼의 식사와 한 번에서 세 번의 간식이 필요합니다.
건강한 간식은 식사만큼 중요합니다.
완전하고 신선하고 가공되지 않은 음식을 먹도록 하세요.
과일과 야채를 많이 먹고 물을 많이 마시세요.
닫기
[616호] A Balanced Meal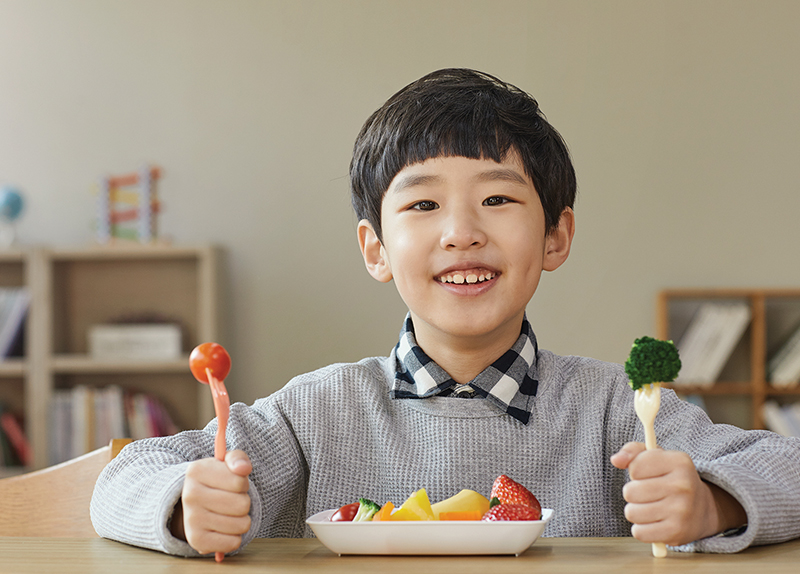 Having balanced meals and healthy eating habits are very important. Children need a balanced diet with foods from all three food groups – fruits and vegetables, whole grain products, and protein foods. Children need three meals a day and one to three snacks. Healthy snacks are just as important as meals. Try to eat whole, fresh and unprocessed foods. Eat lots of fruits and vegetables and drink lots of water.

Alice Kwon
For The Kids Times